The trend of social media marketing has taken over the marketing industry like a tidal wave. However, whenever we hear people talking about social media marketing, more than often, there is no mention of Tumblr. The users of Tumblr have now surpassed the 345 million mark. Yet, the importance and basics of Tumblr in social media marketing are still mostly neglected.
To give you an overview of how Tumblr can be used for business in 2020, we have compiled a detailed guide on how you can take your business to the Tumblr audience.
Here is how you can use Tumblr to boost your business:
1. As a website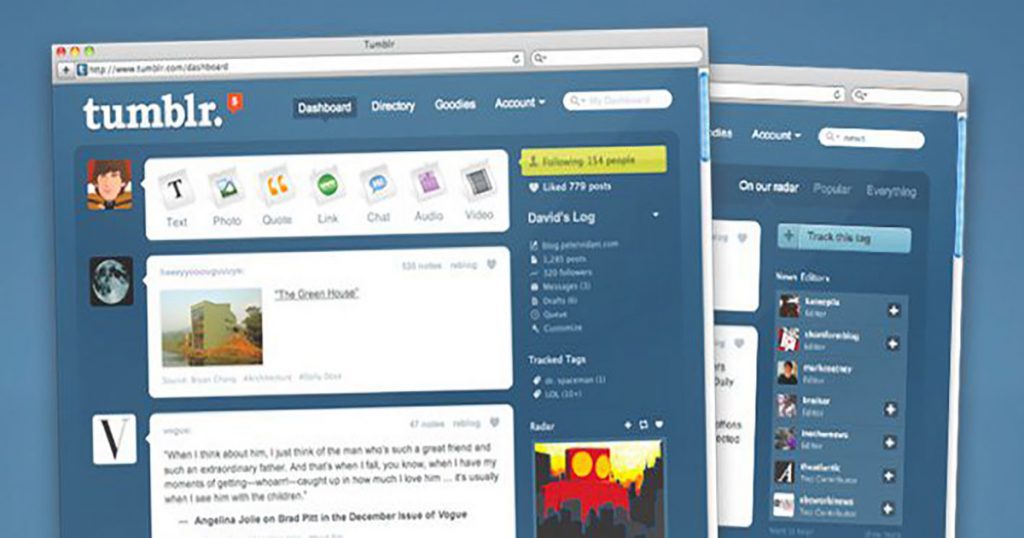 Tumblr is unlike any other social media site. For instance, Tumblr offers a number of options to customize your blog, which is not available on Facebook or Twitter. You can incorporate as much as you like on your Tumblr page. The only thing that will restrict you from adding changes on your page is the extent of knowledge you possess on web designing. Because of this reason solely, a lot of creative business owners opt to use Tumblr as a website.
Tumblr offers a variety of free and paid themes, and also provides the option of creating your own custom theme.
2. Use it to advertise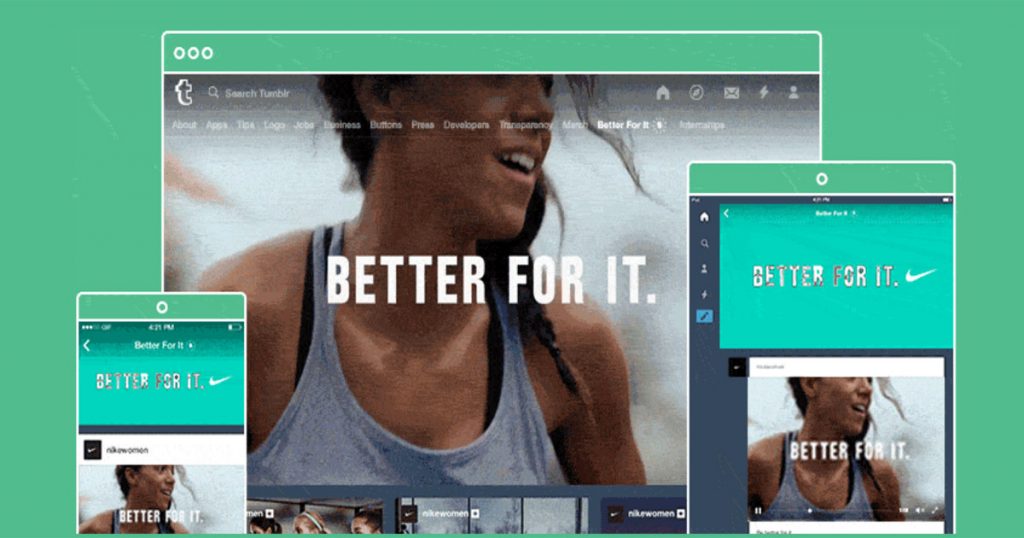 A marketer is exposed to a number of different ways to advertise their products on Tumblr, such as:
Sponsored posts:

Sponsored posts

are no different in appearance to normal posts on Tumblr. Users can reblog and like the posts easily. Where it differentiates is that the Tumblr audience does not necessarily have to be following the business page to get the posts.
Sponsored video posts:

As for sponsored video posts, they are present in the dashboard with all the other posts. These posts are not GIFs or photos, rather, they are video posts that play automatically on a loop.
Sponsored day:

With the sponsored day option, the business can take hold of the user's dashboard for 24 hours. The business then displays an ad on the top of the first post on the user's dashboard, right under the post box. Once this option is added, the users can then click on the ad and land on a page filled with the brand's content.
3. Focus on trending topics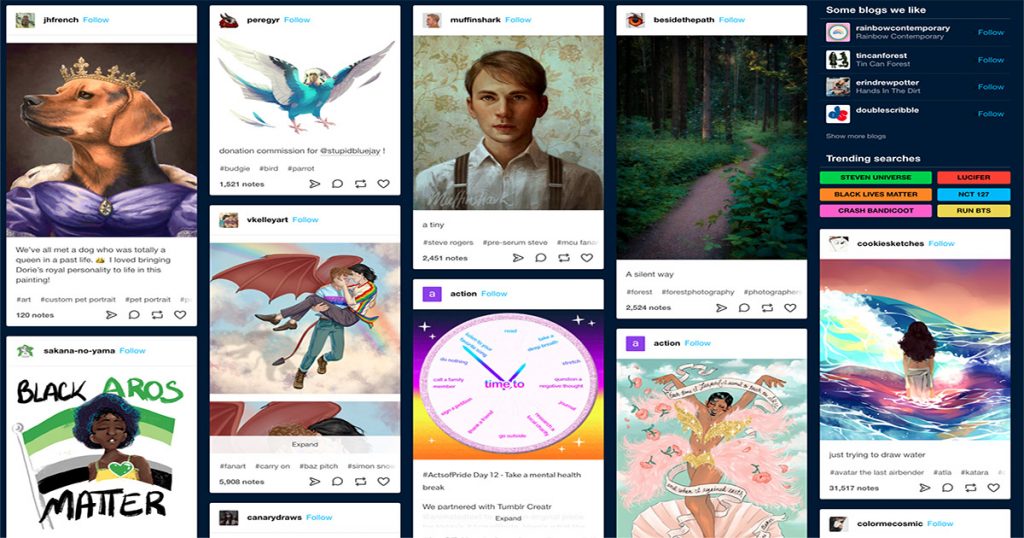 Like any other social media site, Tumblr has a trending topics page as well – which is always filled with great ideas. You will find the most popular blogs, topics, and posts on the trending topic page of Tumblr.
To grow and incorporate new ideas, you can browse the page, pick one topic that is popular and works for your business, or you can pick a relevant topic and discover new ways to make it work for your business.
4. Serve the community of Tumblr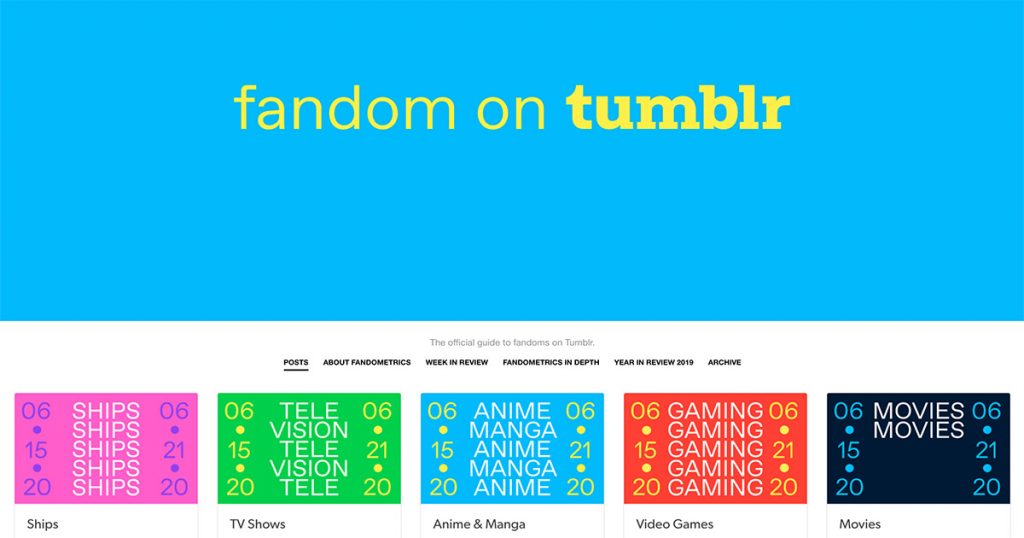 The users of Tumblr are quite community-orientated in nature. To successfully market a business on Tumblr, it requires more than using relevant hashtags and sharing posts from you. In order to reach the audience of Tumblr, you are needed to respect the community and become a part of one of them in a sense that works for your label. If you don't want your posts to be dumped in a Tumblr void, here are some things that you should know about the platform's community:
Age of the majority of users:

Most of the users of Tumblr fall into the young category. If your brand is targeting young people, this will work in your favor. Through Tumblr, your brand has far more easy access to Gen Z and millennials. Hence, there is no surprise in seeing the majority of the content there falls into humorous and sarcastic categories. This is an important thing to keep in mind when you are drafting a plan to reach the Tumblr audience with your brand.
Supportive community:

The majority of Tumblr users are recognized as outcasts in society. Hence, Tumblr becomes a safe place for them to share thoughts that can not be shared on other social media platforms. Users more than often find very relatable content and people on this platform, and sometimes even choose to blog anonymously. Also, the Tumblr community is an open advocate of mental health awareness, which is why you will see a lot of posts regarding inspirational advice and hotlines going viral on the platform. The users of this platform have formed some really deep friendships over time, all because of the network's supportive nature.
Popular fandoms:

Although Tumblr is a big community in itself, a lot of smaller communities exist inside this platform. A lot of them are

fandoms

, full of people who share the same group of ideas and interests. These fandoms could be of movies, books, television shows, comics, comic books, video games and a lot more. So, if your business is of any relevance to the ideas of any specific fandom, you should work on ways to market to them.
Everything can make its place in Tumblr:

You will see posts related to pretty much everything on Tumblr, be it memes or serious news posts. There is no censorship for any post on Tumblr, which is very unlikely to be seen on other social media networks. So, do not be surprised if you see adult-content when you are pursuing the platform. If you shy away from such posts, don't worry, you can avoid such posts with the help of browser extensions from a third party.
Conclusion
Tumblr has been around for almost two decades, yet many marketers barely utilize it, so those who are serious about taking their business to the next level should seriously consider posting content on their platform. If a brand is one that can be found on all social media networks, it will reach a much larger audience and will lead to an increase in sales and grow your business. If you need help setting up your Tumblr page, don't hesitate to contact us.