Merely focusing just on design components and features has now become quite obsolete. Today's design trends focus on developing a highly functional and user-friendly website or an app that doesn't lose conversions because of outdated appearance and compliant web standards. Leading web design agencies and responsible IT firms like Cosmico Studios remain up-to-date with the latest technology advancements to boast impressive aesthetics and exponential performance of web products.
Cosmico Studios keeps an eye on digital technology trends, most recent breakthroughs, standards, and projections that are always crucial for the growth of digital businesses. The company designs websites and applications that facilitate user-friendly navigation, swift loading times, and high-security data.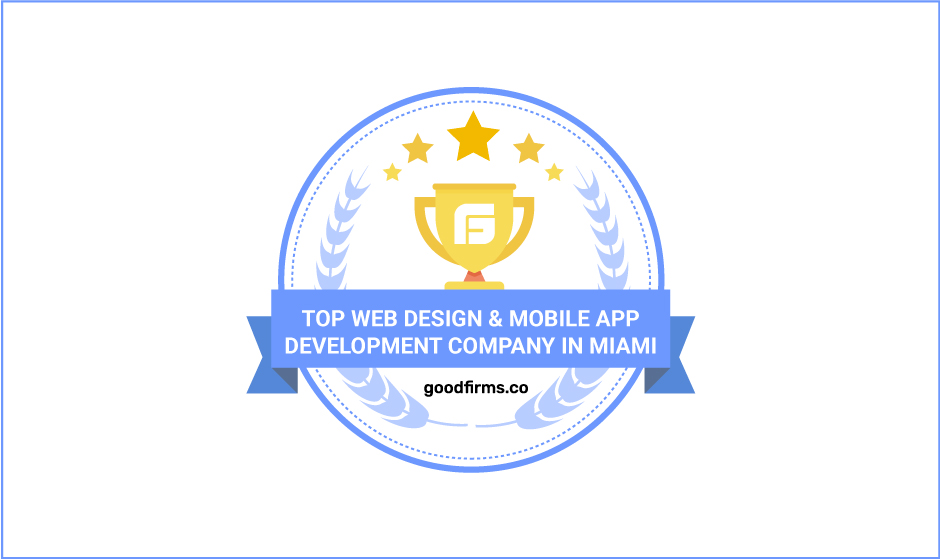 Based in Miami, Florida, Cosmico Studios was founded in 2005 by Kenneth Metral, a technology expert and business enthusiast. He utilized his 15 years of extensive technical expertise and knowledge to make his company lead among the top design studios in the United States of America and abroad. In his leadership and guidance, Cosmico Studios has become one of the country's prominent software development companies. Its unbeatable digital development, design, and promotional capabilities are storming the world.
High-Scale Tech Services Offered at Cosmico Studios
Cosmico Studios provides innovative consulting and IT solutions to businesses seeking tech empowerment and success in today's competitive business environment. The company aims at maintaining long-term relationships with its clients and, therefore, takes time to understand what they need and analyze how to help meet their goals.

Other than specializing in web designing, Cosmico Studios is a number one mobile app development service provider in Miami specializing in developing iOS, Android, and Web apps based on Swift, Kotlin, and React Native programming languages. Swift ensures fast performance and rich functionality of iOS apps. Kotlin makes Android programming and operation easy to understand, whereas React Native facilitates fast, high-quality, and responsible cross-functional mobile apps. 
The company also holds expertise in WordPress & Webflow design and development and maintenance & support. It also excels in developing and designing Shopify and Magento-based websites. 
Market Leader in Responsive Web Design Solutions
Cosmico Studios leads the US tech market as a fantastic web designing service provider. The company's forte is crafting supreme-quality websites and applications that promise stability, performance, and long-term adaptability.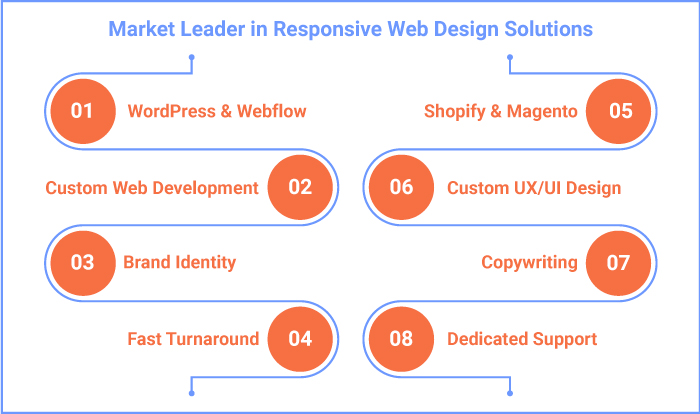 The company's web team has experience developing hundreds of responsive websites focusing on content, colors, typography, and custom UI/UX design. It uses NodeJS to React JS to create amazing online interfaces for modern web applications that provide a seamless user experience. It designs unique logos for new brands to help them establish iconic identities and emotional connections with their target audiences.
The amazing team of copywriters creates fantastic write-ups, and dedicated account managers provide required support along with on-staff experts in design and development arenas.
Why Choose Cosmico Studios?
Kenneth Metral, the CEO of Cosmico Studios, affirms they have mastered the art of developing and designing the best quality websites and mobile applications. They always reach their commitment related to quality and own a project once it completes.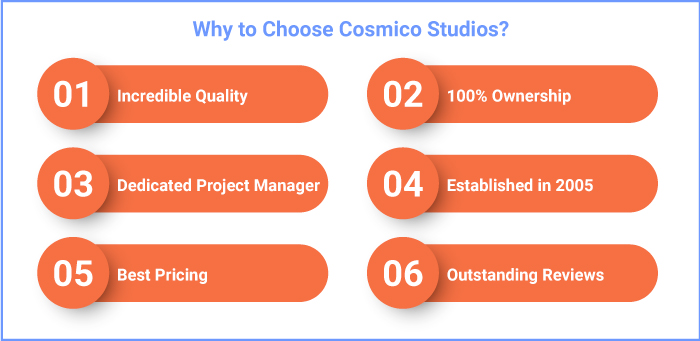 The company mainly uses open-source frameworks that allow its customers 100% ownership of the product's source code with no licensing fee charged. The services are best priced, instead of cheap, and the company credits 78 five-star reviews to its account. He says, "Their clients love them and wouldn't change them for the world". 
Some of the top clients' reviews, and testimonials are displayed below.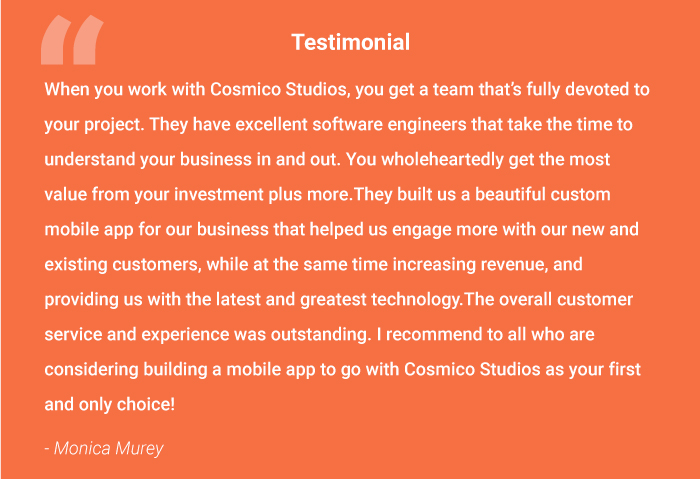 Cosmico Studios celebrates earning an excellent reputation among its clients. It provides fantastic user experience and excellent customer service and always insists its engineers and designers keep improving their abilities to satisfy the maximum number of customers. The company has always displayed great signs of growth and is working on all its loopholes always to perform the best.
Looking to build a website? Contact us for expert assistance and let us bring your vision to life.
GoodFirms Research Methodology
GoodFirms is a leading review and rating company based in the USA. It is a platform that allows businesses to find the right partner for their company and grow exponentially. GoodFirms has collected over 60,000 positive client reviews for the listed companies that help them rank based on their clients' choices and market performance. The actual user insights offered by GoodFirms help businesses move their business to the next level of success.
About GoodFirms
Washington, D.C. based GoodFirms is a reputed B2B research and reviews firm that aligns its efforts in finding web development and web design service agencies delivering unparalleled services to its clients. GoodFirms' extensive research process ranks the companies, boosts their online reputation, and helps service seekers pick the right technology partner that meets their business needs.
About the Author
Prepared by Anna Stark, a Content Writer at GoodFirms, who bridges the gap between service seekers and service providers. Anna's dominant role lingers to form every company's achievement and critical attributes into words. She strongly believes in the charm of words and equips new approaches that work, always with concepts.