In their latest announcement, TopDevelopers.co has named Cosmico Studios amongst their Finest 500 companies for mobile app development in the world.
Cosmico Studios has done it again!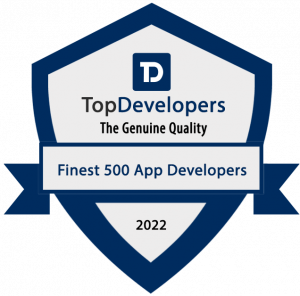 We have made it to the Finest 500 Mobile App Development companies at TopDevelopers.co.
Cosmico Studios is a web design and mobile app development agency headquartered in Miami, Florida. We provide our clients with Web, iOS, and Android app development solutions. Our work has earned us an excellent reputation amongst our clients for our fanatical customer service and cutting edge expertise in the industry.
We are proud to announce that Cosmico Studios has been listed amongst the Finest 500 Companies for Mobile App Development that was recently published by TopDevelopers.co in a press release.
If you haven't already heard TopDevelopers.co is a respected well-researched directory that ranks various IT companies according to their service, client reviews, and industry specific metrics. The company has a robust process for identifying the efficient firms in each domain, and they make the process of selecting a reliable IT solutions provider, a cakewalk. It lists only the finest mobile app development companies, web and custom software developers, UI/UX designers, Digital marketing agencies, Data analytics firms, Game app developers and other IT service and solution providers.
Needless to say, our entire team is thrilled to be featured on the Finest 500 list. With over 6,000 firms listed with TopDevelopers.co, it is an achievement to be named amongst the Top 1%!
Visit our profile on TopDevelopers.co to understand the salient features of our company, our focus areas, service specialties, cost details etc., all in one place.
If your business is looking for a new mobile app development partner, contact us today.