If you are wondering how to build an app like WhatsApp, then you definitely found the right article to help you succeed at it.
There are other apps present in the market that have copied or been inspired by WhatsApp, but you need to work towards making your app stand out amongst the rest. The more unique you can get, the more users will download your messaging app.
The History of WhatsApp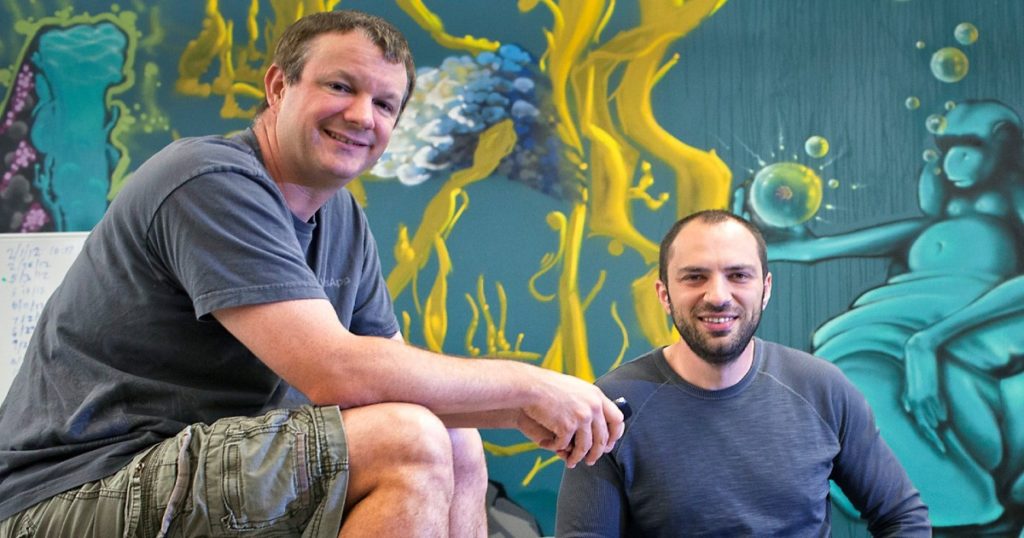 WhatsApp was founded by Jan Koum and Brian Acton back in 2009.
The purpose of the app was to give users an opportunity to exchange messages in real-time using their data plan or Wi-Fi. This is what makes it so popular amongst users, anyone in the world can talk with each other without needing to worry about which phone, operating system, or country they are living in.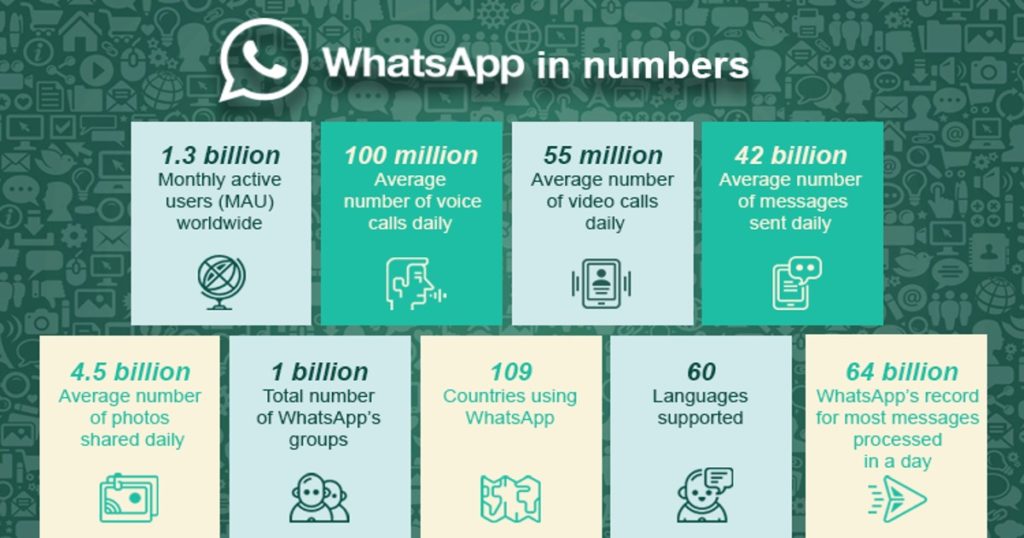 After much success, WhatsApp is now available in all mobile phones and in all languages. Today it has crossed the 2 billion user mark and is one of the most successful instant messaging apps ever. The app was so successful that Facebook ended up acquiring them for $19 billion in 2014.
Features of WhatsApp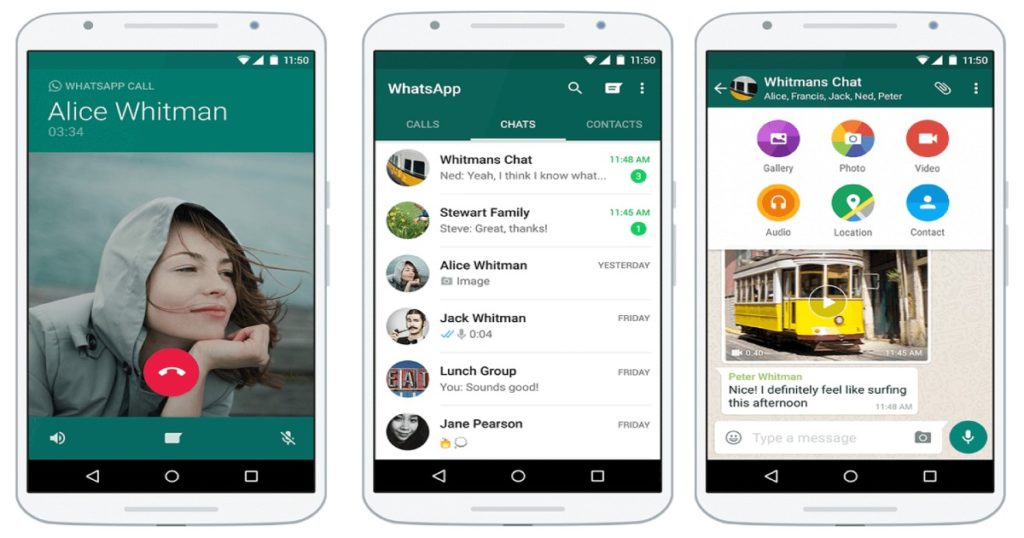 Registration
Login and profile
Message exchange
Multimedia sharing
Voice Calling
Video Calling
Location Sharing
End-to-End Encryption
Notifications
Settings
WhatsApp Tech Stack (2009-2022)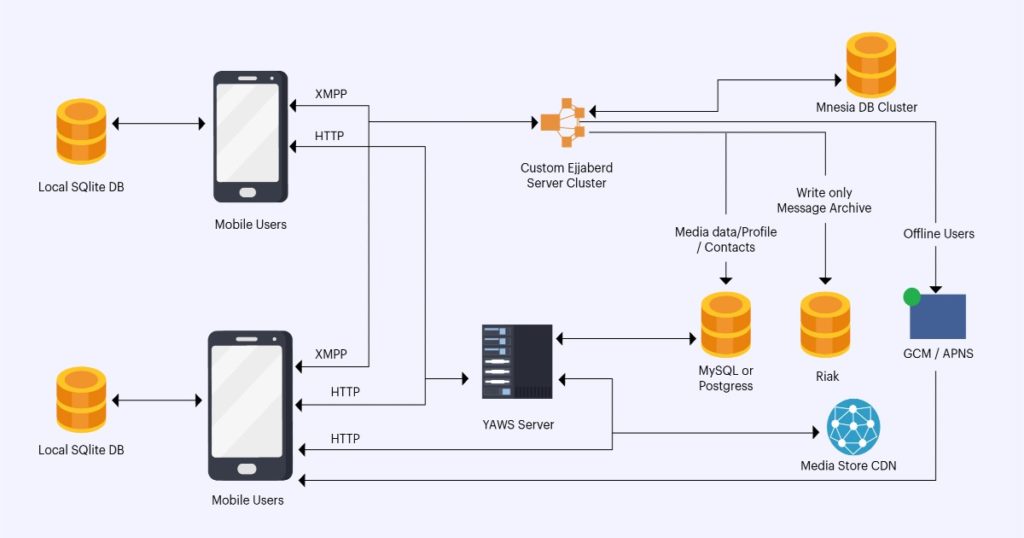 Erlang – language used to script real-time chat apps (2009).
React Native, Java, Kotlin and Swift – languages used for Android and iOS mobile apps (2022).
FreeBSD – open-source operating system to power modern servers and embedded platforms.
YAWS – Erlang-based web server used for dynamic-content apps to run WhatsApp as a standalone web server.
PHP – general-purpose scripting language for web development.
XMPP – the communication protocol – the core of WhatsApp for sending real-time messages.
WebRTC – protocol for video and voice calls.
PostgreSQL – SQL data storage.
Amazon Web Services – Hosting.
How do you begin to launch an App?
First, brainstorm and gather a list of all the features that you want to have on your instant messaging app. Then start to make decisions on which features are the most important for your MVP and stick to them.
Additionally, you must know what your target audience needs, and provide features that will prove to be a valuable addition to their life, and that will make them prefer your app over others.
After you analyze the market, audience insights and demographics, you must now think about which platform to build it on, whether iOS or Android or both. You must take into account all the pros and cons of each option before reaching a final decision.
How will you monetize?
Another important factor of your app is how you will earn money from it. There can be many ways that you can monetize your app, one is to go for advertising and built-in ads, the second is to collaborate or do sponsorships, and third is to use in-app purchases. Any of these options enable you to earn money from your app.
Hire a dedicated development team
You must hire a team of professionals that are composed of mobile app designers and developers. This team can help you achieve all the goals for your app, and they work efficiently because of their wide knowledge and skills around frontend design and backend development while at the same time making the app user-friendly.
Additionally, End-to-end encryption is also necessary for an instant messaging app. The platform should be secure and protected so that potential users do not get scared that their data is likely to be leaked or misused while using your app.
How much does it cost to build an app like WhatsApp?
Now is the time to address the most important part of the article – cost. An instant messaging app similar to WhatsApp would cost in the range between $100,000 to $1,000,000. This also depends on who you are hiring, where they are located, the skill level of the UI/UX designers, app developers, project managers, and the rest of the team.
Conclusion:
Messaging apps are gaining momentum, the most popular applications include WhatsApp, followed by Facebook Messenger and WeChat. But don't be discouraged with their size, they all started small and put their whole heart into their product, so if you have the passion to build the next blockbuster app you will succeed.
If you are interested in developing an app like Instagram, you can always contact us to help you build it.